Friday, July 23nd, 2021 – This afternoon's round promised to be lively and it definitely wasn't disappointing. After yesterday's results, several players had to win on-demand to equalise their matches and force the tiebreak, while many others had an aggressive game and a win in mind precisely to avoid the tie and get an extra free day to regroup.

Also, some players may obtain the right to play in the next Grand Prix series, as long as they reach the quarter-finals. With regard to the Women's Cup an added benefit for reaching semi-finals is the direct qualification to the future Women Grand Prix Series, the final dates of which will be decided very soon.

The first player to finish his game in the open section was Maxime Vachier-Lagrave. After a solid draw yesterday with Black, he faced a very risky albeit fashionable variation of the Sicilian which his opponent, Praggnanandhaa, had prepared for today.



The key idea of the game was the Frenchman's positional queen sacrifice (planned on move 24.Kb2), which Vachier thought about for nearly 10 minutes. It worked out well and now he will face the winner of the tiebreak between Artemiev and Karjakin.

After the game, Maxime popped into the studio for a brief interview.



Meanwhile in the playing hall, the World Champion Magnus Carlsen was having the time of his life, attacking his opponent's kingside with great energy. At some point it seemed that he was crushing Radoslaw Wojtaszek, however his own kingside was also battered up by now, so it was touch and go.

The key moment of the game was move twenty-five when Carlsen chose 25.Bc2 instead of 25.Rxh7 which is +10 according to the computer engine. As always, it's hard to speculate what the World Champion might have missed, and today he wasn't available for an interview.



Our best guess is that he didn't see the crushing 30.Bc2+ followed by 31.Rh8! idea in the following long variation - 25. Rxh7 fxg6 26. Qxg6 Rf1+ 27. Rxf1 Qxd5+ 28. Kg1 Qd4+ 29. Rf2 d5 30. Bc2 Bc5 31. Rh8+ Kxh8 32. Qh7# but of course it could be any of the other complicated lines that might have occurred.

Magnus discussed some variations with his opponent after the game. He seems to be pointing to the h7 square in this fantastic photo by Eric Rosen, one of the event's two official top-notch photographers.



Obviously, tomorrow's tiebreak between these two players will be very exciting.

Kacper Piorun is one of the lesser-known players that are slowly but surely making a name for themselves in Sochi. Today he qualified for the fifth round – his best performance to date – by eliminating one of the pleasant surprises of the tournament, Javokhir Sindarov.

The polish grandmaster was kind enough to pop-in to the press centre for a small interview in which we also discovered that he is a 5-time World Champion …. In Solving!



Uzbekistan's pride, Nodirbek Abdusattorov, who eliminated Giri in the previous round, was on the verge of being eliminated himself when he lost yesterday with White against Vasif Durarbayli.

However, needing to win today with Black on-demand, he took advantage of his opponent's slightly passive opening play to achieve a very good middlegame, that transitioned into a clearly better endgame.



However, his opponent defended tenaciously and only after five tough hours of play Nodirbek was able to take the point home and force what will definitely be one of the most interesting tiebreaks tomorrow. Even though he was quite tired he found time to come to the press centre for a quick interview.



After quite a peaceful round, things heated up today in the Women's group, as several players had to win on demand to stay in contention for the top prize. None less than six of the eight games had a winner, a high percentage indeed.

Number one seed Alekxandra Goryachkina lost painfully yesterday to Antoaneta Stefanova but today she made a comeback with a nice win to force the tiebreak. This evenly-matched encounter will definitely be closely followed tomorrow afternoon.



Also winning on-demand was Nana Dzagnidze, forcing the tiebreak against her opponent Polina Shuvalova. After 17.Bxh6! she was already winning, as the main idea behind the piece sacrifice is that 17…gxh6 18.Rad1 attacks the queen and after 18…Qxc4 19.Qh5! followed by Re4 gives White an unstoppable attack.



Finally, four match-ups that finished in a draw yesterday had a decisive score today. Valentina Gunina, Anna Muzychuk and former World Champion Zhongyi Tan all won their games with good endgame technique, while Alexandra Kosteniuk created a fantastic double exchange sacrifice that wiped her opponent off the board. All these players advance to the next round.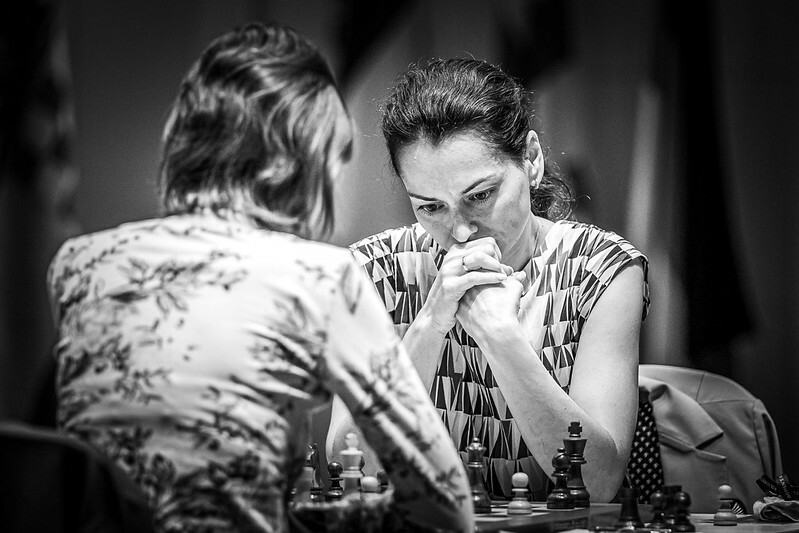 Alexandra gave us her thoughts in the post-game interview.



Pairings of the fourth round tiebreaks, live games and PGN files can be found on the World Cup website alongside a great amount of other interesting information such as daily videos, a complete photo collection and other useful data.


About the tournament:

Scheduled to take place from July12th (Round 1) to August 6th (finals), the 2021 FIDE World Cup will gather together in Sochi (Russia) 309 of the world's best chess players, with 206 of them playing in the Open World Cup (and 103 participants in the first ever Women's World Cup.

The top two finishers in the tournament, aside from World Champion Magnus Carlsen who is also participating, will qualify for the 2022 Candidates Tournament, in addition to winning the 110.000 USD first prize (80.000 USD for the runner-up).

Organisers: International Chess Federation (FIDE), Chess Federation of Russia, Russian Ministry of Sports, and Government of Krasnodar Krai.

Partners:
Gazprom– general partner
Nornickel– general partner
PhosAgro– general partner
Chessable– event's partner
Rosatom– event's partner
Aeroflot– CFR's partner
Educational centre "Sirius"