Wednesday, August 4th 2021 – Norwegian World Champion GM Magnus Carlsen (2847) was highly motivated today. Eliminated from the World Cup final in the tiebreaks yesterday afternoon, but still undefeated in classical games – boasting a +5 rating improvement -, a win over Russian GM Vladimir Fedoseev (2696) would definitely bring back his edge.

His opening choice – the King's Indian defence – was already a statement: he was going for the kill. Fedoseev didn't back down at all: his third move 3.h4! clearly put Magnus off-balance. "A very good choice" said Carlsen after the game.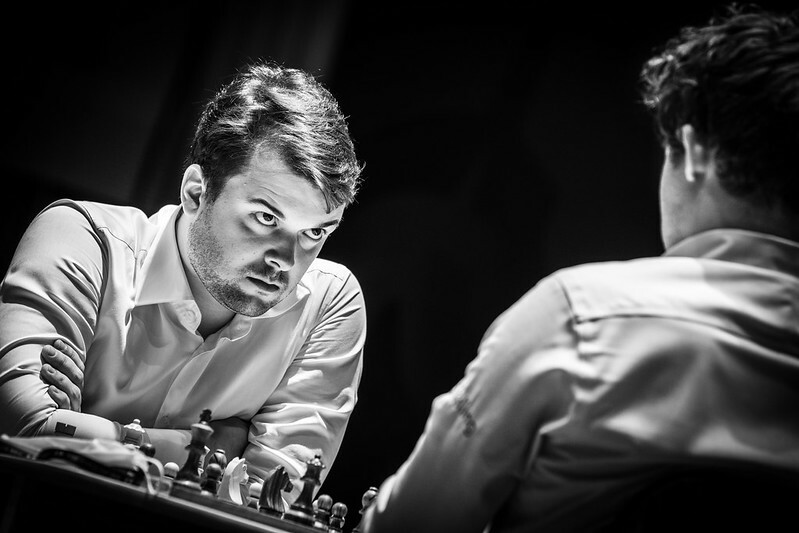 Carlsen went into deep thought and after sixteen minutes chose one of the most principal continuations, deviating from a previous Fedoseev game which went 5…Na6. The fight was on. "My ideas today were generally connected with sacrifices" was the Norwegian's mentality.

The key moment of the game came on move sixteen: in a typical King's Indian middlegame, Carlsen decided to unbalance the position. The fantastic sacrifice idea 16…f4! followed by 18…Rxf4! reminded World Cup commentator GM Nigel Short of some of Tigran Petrosian's games: the exchange sacrifice was one of his trademark positional gems.



Fedoseev accepted the gauntlet and began to defend. However, even an exchange and a pawn up, his position was very hard to play: all his pieces were bottled up on the kingside and Carlsen was dominating the dark-squares.

The Russian grandmaster tried to give back the exchange but Carlsen kept declining: his bishop was much stronger than the rook. You don't often see a zugzwang position with so many pieces on the board.



Finally, on move forty Carlsen recovered the sacrificed material, at the same time keeping all his positional advantages and Fedoseev gave up his hopeless position immediately. Carsen will play White tomorrow in the second game.

A very content World Champion gave us his thoughts in a brief post-game interview.



Former 2015 World Cup winner GM Sergey Karjakin (2757), representing Russia, opened the game with 1.d4 and his opponent in the final GM Jan-Krzysztof Duda (2738) from Poland, defended with the Vienna system, which has brought him quite a lot of success in this event.



Karjakin followed the steps of a previous game between Magnus Carlsen and Jan-Krzysztof Duda, from the Tata Steel event in 2019, introducing a novelty on move 11.Rd1. Duda didn't seem very impressed and quickly defended his extra pawn with 11…Bd7.



Even though Duda's move is very logical, it might have caught Karjakin by surprise, because he thought for seventeen minutes before going for a three-fold move repetition. We caught up with him after the game and he was kind enough to explain his thought-process.



Obviously, Duda was very happy with the outcome of the game: a draw with Black at this level is generally a very positive result, specially taking into account that his opponent had an extra day to prepare the game.

In his post-game interview, he mentioned that he was surprised by his opponent's opening choice. He will play the second game tomorrow with White.


About the tournament:

Scheduled to take place from July12th (Round 1) to August 6th (finals), the 2021 FIDE World Cup will gather together in Sochi (Russia) 309 of the world's best chess players, with 206 of them playing in the Open World Cup (and 103 participants in the first ever Women's World Cup.

The top two finishers in the tournament, aside from World Champion Magnus Carlsen who is also participating, will qualify for the 2022 Candidates Tournament, in addition to winning the 110.000 USD first prize (80.000 USD for the runner-up).

The full tournament tree, live games and PGN files can be found on the World Cup websitealongside a great amount of other interesting information such as daily videos, a complete photo collection and other useful data.

Organisers: International Chess Federation (FIDE), Chess Federation of Russia, Russian Ministry of Sports, and Government of Krasnodar Krai.
Partners:
Gazprom – general partner
Nornickel – general partner
PhosAgro – general partner
Chessable – event's partner
Rosatom - event's partner
Aeroflot – CFR's partner
Educational centre "Sirius"